Since it is inexpensive and relatively easy to maintain, concrete has become a popular choice for construction projects. Many homeowners have recognized that concrete might become dull over time and are considering painting it. Will you have better luck with epoxy or concrete staining? Are you afraid? So let's discuss, and don't be afraid because we will not spare anything that may make you sad about your purchase, and we will discuss everything.
There are many possibilities accessible to you whether you are seeking a suitable surface for your bathroom, kitchen, or living room.
What Exactly Is a Floor Made of Epoxy?
"Epoxy" refers to either the group of essential ingredients that go into making epoxy resins or the hardened products of those resins. Epoxy resins are reactive pre-polymers and polymers that include epoxide groups in their structure and molecular makeup.
It is also possible to refer to them by the term polyepoxides, another name for them. Epoxy is another name for the functional group known as epoxide, and occasionally the collective form of epoxy is used.
What Exactly Is a Floor Made of Concrete?
Concrete flooring is an option that suits both residential and restaurant buildings because it is long-lasting, resilient, and simple to maintain. It is also capable of withstanding high volumes of foot traffic. Concrete floors may be stained or painted to create a variety of styles, ranging from the appearance of natural stone to that of polished concrete.
Epoxy floors and concrete stains are two of the most common forms of flooring, but you may pick from a wide variety of options for your floor covering.
What Separates These Two Options of Concrete or Epoxy?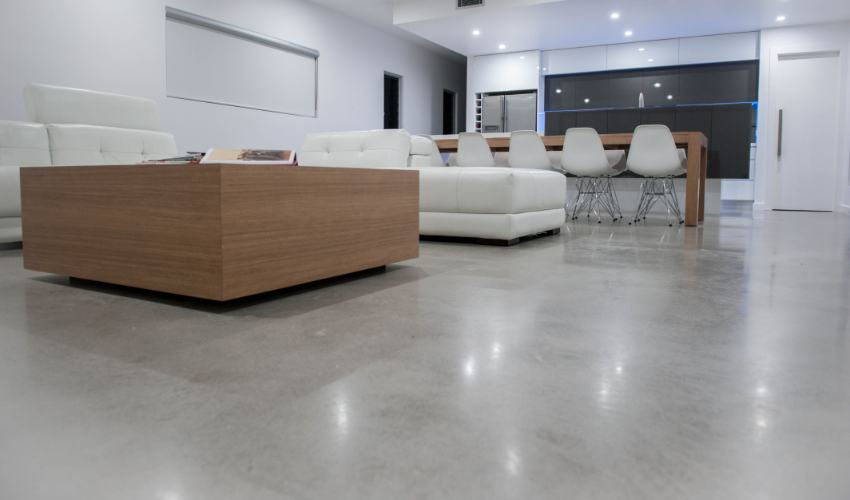 An epoxy is a form of resin that may provide a resilient and long-lasting finish when combined with various hardeners. Thus Because of its durability, it is often used for high-traffic locations and mostly busy areas. If the latter option is chosen, epoxy may be applied directly to concrete or put over already laid flooring.
Staining concrete involves putting a colorful stain on it to give it a one-of-a-kind appearance. Stains for concrete may be applied to newly poured and previously stained concrete floors. Due to its limitless architectural options, concrete staining has been widespread for use for outdor side in interior and exterior areas.
Where do you stand on the flooring options shown here? If you need a tough floor that can stand up to a lot of traffic, then epoxy may be your best choice.
Deck Epoxy Coating and Staining Instructions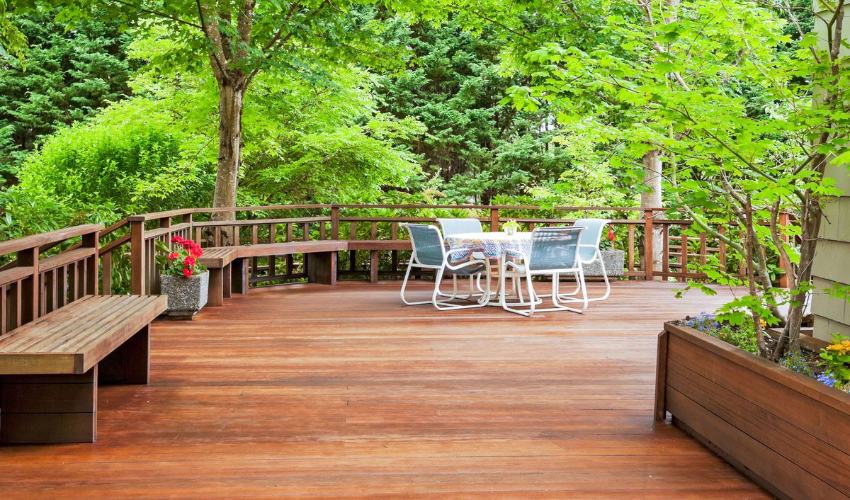 You may be curious about the differences between epoxy flooring and concrete staining for the surface of your deck. Both may provide a superior final product for your deck, but there are some key distinctions to keep in mind.
Epoxy: Epoxy is a man-made material that can make the surface of your deck rugged and durable. It is often put in a thin layer before being cured with heat or UV light. When epoxy hardens, it makes a waterproof barrier that doesn't fade or stain.
Adding epoxy or stain to concrete can give a deck a unique and stylish look. When deciding between the two, there are a lot of different factors to take into consideration.
Concrete staining, on the other hand, is the process of adding color to a deck's concrete surface. To do this, you could use acidic or water-based stains. Acid stains can get deep into concrete and change its look by reacting with the minerals in the material. A water-based stain will make the color of concrete fade over time.
A General Overview
Most of the time, epoxy is more expensive than coloring concrete, but the extra cost is worth it because epoxy lasts longer. If you want to save money, colored concrete is the best choice.
Epoxy is a good choice for areas with a lot of foot traffic and decks that are open to the outdoors because it lasts much longer than concrete stains. Both epoxy and staining concrete have their good points and bad points.
Epoxy Doesn't Break or Change Colour and Is Long-Lasting
Epoxy is a strong, long-lasting material that doesn't peel or change color easily and doesn't need much upkeep. Epoxy, however, can be dangerous when wet and is hard to fix if it breaks.
Concrete Is Widely Used Due to Its Durability and Widespread Popularity
Tinted concrete is a popular flooring material because it gives your room a unique look. But if you take good care of this flooring, concrete stains will be able to maintain your real floor color.
Conclusion
There are so many different flooring that you need help choosing the best one for your home. Here I have presented two of the most common choices, and if you ask me to choose, I will prefer concrete because of its rough and tough and heavy rain and traffic areas, as well as epoxy for delicacy and beauty. This information was put together to help you decide on flooring, so keep reading our blog posts. Thanks