Let us be the first to inform you that you do not need an expert artisan to create a stunning epoxy table if you have the stomach for it. Here are some helpful tips and a brief how-to on making an epoxy resin table that will let visitors wonder where you purchased it. With the proper equipment, the proper motivation, and a few tips, you will soon be able to create an epoxy resin table that would put a high-end furniture shop to shame.
Why Have Epoxy Resin Tables Become So Popular Recently?
In recent months, epoxy river tables have become a worldwide craze. Although they have a global appeal, this aesthetic trend started in the United States. Their popularity seemed to be expanding dramatically, and why not? Epoxy resin tables suit practically any style and feel at home in every environment, whether you have a modest apartment or enjoy a well-deserved whiskey while watching the sunset on your ranch in Texas.
How do epoxy river tables accomplish this feat? Well, it's a mix of things, but the biggest reason is that they have no aesthetic limitations, enabling anybody to construct an epoxy river table that matches their taste and the room in which it will be placed.
What Materials And Equipment Am I Need To Construct A Live Edge River Table?
Determine the kind and size of river table you want to create, then select the appropriate materials from this selection. Some tables are less expensive than others, for instance, coffee tables. Refrain from believing you need every item on this list to create a stunning epoxy resin table.
Nitrile Gloves
Eye Protection Glasses
Respirator or Face Mask
Corded Drill and Paint Mixer
Plunge Router
Paddle Mixer
Polishing Paste
Screws
Sandpaper
Orbital Sander
Circular Saw
Table Top Finish Wood Oil
Propane Torch / Heat Gun
Mixing Bucket
Wood Chisel
Caulking Gun
Silicone Spray
Tape Screws
Select the Appropriate Wood for Your River Table
Choosing wood is a crucial aspect of creating a gorgeous epoxy river table. It is beneficial to get more costly natural wood for artwork, and it is preferable to construct a sturdy and long-lasting table instead of flimsy and easily broken furnishings.
For the epoxy resin river tables, pick a natural wooden board or a board carved from a tree trunk.
The appearance of your project will be much enhanced if the wood has natural edge barks. A wood merchant, furniture maker, carpentry company, or even the internet can provide unfinished wood planks. You can alternatively purchase two lovely, slightly curved hardwood planks from a hardware shop and cut them to the necessary form using a jigsaw. Before dealing with wooden boards, remember that the wood must be completely dry.
Wooden Boards Preparation
It is essential to dry the wood thoroughly; the moisture content should be less than 11-13%.
The length and width of each board should be identical. See it in the center with a circular saw, or hire a professional carpenter.
Utilize a Planer – If you have expertise in dealing with and processing wood, you can utilize a planer. Ensure that both wooden pieces have the same thickness and are perfectly flat.
Conditions for Working with Epoxy Resin
Epoxy resin is a susceptible substance; a chemical reaction will occur when combining resin and hardener, changing the liquid combination into a solid. Before working with resin, the optimal working conditions, including temperature, humidity, and cold, must be established.
The drying period of the resin can be affected by high temperatures; it will cure more quickly. Due to the temperature sensitivity of the resin, it is essential to establish the ideal working temperature. The optimal processing temperature is between 23-30C or 70-85F. Below 20 degrees or 68 degrees Fahrenheit, a combination will become very thick and full of bubbles.
If you keep your resin kit in a chilly area, the resin will rapidly develop small, ugly bubbles. These tiny bubbles will not be readily eliminated; the propane torch or hot air drier will be required. A dust-free, dry, and well-ventilated workshop space is also crucial to the success of your project. When resin starts to solidify, it can produce fine dust.
Bark Removal and Wood Grinding
The wood's bark, large knot holes, rotten patches, and other residual bark must be removed entirely. You want your table to be as free of hard, soft, and rotten wood as possible. Hand-sand the edges with sandpaper or a primary instrument, such as a chisel or hammer.
Clean slabs using a stainless steel wire wheel, removing soft wood while retaining the hardwood. This will help the epoxy glue to bind with the wood better.
For more extensive surfaces, use an eccentric or orbital sander. Beginning with 80 grit, go to 220 grit. After each usage, eliminate all dust. The wood must be thoroughly cleansed of any dust remnants. Utilize a vacuum cleaner and a microfibre towel to eliminate any dust.
Sealing the Wood and Filling Bumps and Cracks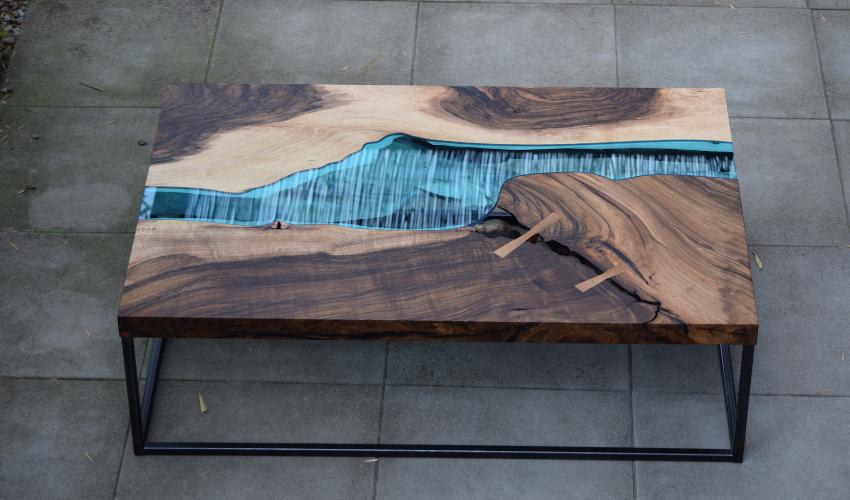 All uneven areas and permeable cracks must be sealed with epoxy resin. These can be filled with clear, unpigmented, or colored epoxy flooring resin. To balance out any unevenness in difficult-to-reach regions around the edges, seal them with strong and durable adhesive tape. This will prevent resin from overflowing the edges. sealing the edges with a quick-drying resin will always be the best choice.
It will prevent the colored mixture from permeating the wood and leaving a stain. When the fissures have entirely healed, seal the wood with clear resin. It will liberally cover the whole hardwood surface, surface included. This little touch prevents the wood from off-gassing.
After the whole mixture has hardened, gently roughen the inner edges that will touch the cast resin. The epoxy will adhere better when the edges are sanded by hand with sandpaper. Use a glue brush made of silicone or a fiber brush. Simply spread it over the advantages that will come into contact with the resin.
Select the Mold Layout for the Resin Tabletop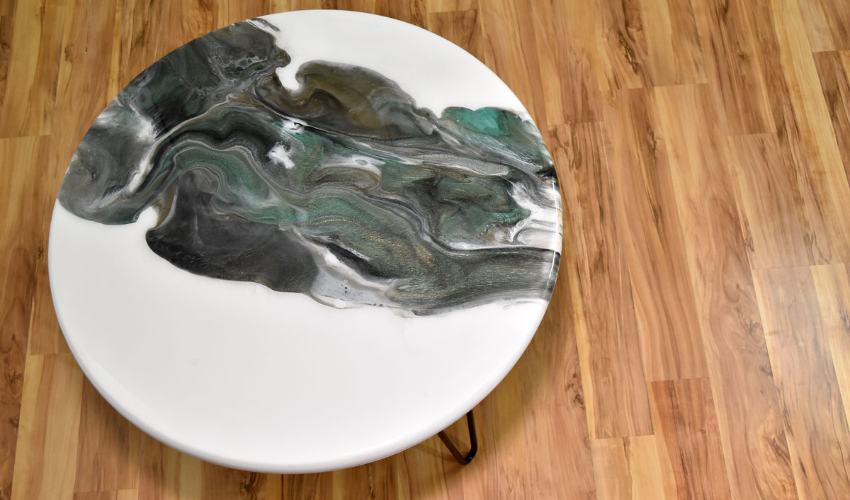 Before beginning any project, always create a template to visualize the final product. It doesn't have to be anything extraordinary; a 1×1 fragment would do. You can change your template or experiment by shifting and flipping your slabs and incorporating them into other parts to see how they appear.
Another solution would be a mold constructed from MDF boards of the same length and size as the tabletop. The procedure must be measured with attention and precision. You want to generate a manageable mold. 14-16mm MDF boards on the bottom, 10-12mm taller than the tabletop on the sides. The side panels are secured or cemented using a specific hot glue.
Once you constructed a mold from the MDF skirting board, the mold was complete. It's time to seal the borders with clear sanitary silicone. This process must be performed precisely to guarantee that the mold is airtight; otherwise, the mixture will seep out of the corners.
Apply a release agent to the completed mold now. Remove the tabletop from the mold without causing any damage. After curing, resin might attach to the MDF boards and destroy your mold. Use liquid-release wax or a combination of adhesive and protective tape to cover the mold. Another alternative is to spray silicone or Teflon. The surface on which the mold is positioned must be in equilibrium!
Insert the Wood Plank into the Mold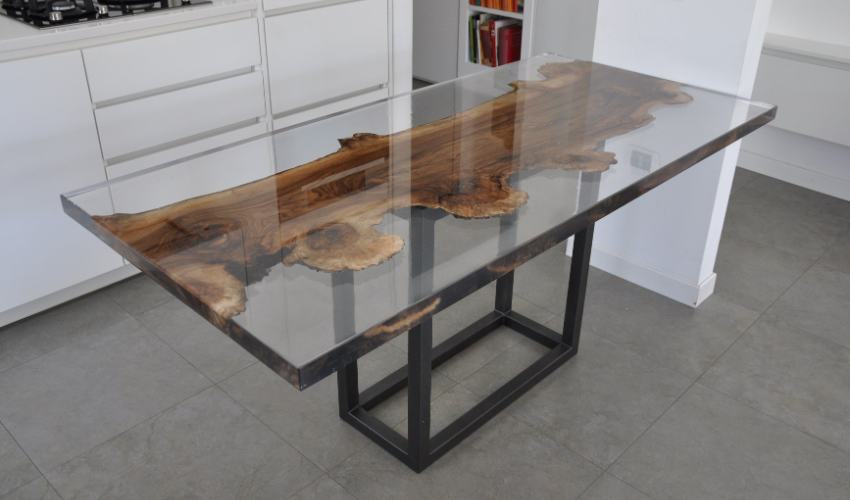 Once the mold is complete, you can insert the wood. Insert the wood into the desired location in the completed table and secure it using parallel clamps. Remember that the mold must be 100% in balance, or the resin can leak. To prevent components from floating during the first pour, weigh them. For the smaller river tables, you can use heavy objects like stones or dumbbells.
Remember that all fixed components will make contact with the resin. Once the initial coat of colored resin begins to dry, it will hold the slabs in place, so there is no need to screw the slab to the mold. Applying a silicone barrier to the wood around the river's border prevents resin from contaminating the table. Use at least 0.8 – 1cm (0.4 – 0.5inch) or 2 – 2.2cm (0.8 – 0.9inch) of space between the barrier and the edge along the inner borders.
 Integral Epoxy Resin Blending
Calculate and measure the correct quantity of epoxy resin for the job. Add about two teaspoons of color pigments per cup and stir vigorously for at least five to seven minutes. Use a bucket of adequate size for the complete quantity of resin.
Remember that mixing using a drill attachment will generate more air bubbles. However, a mixer will guarantee that the components are well-mixed. Wait 6-10 minutes for air bubbles to rise to the top after properly mixing the epoxy.
Any famous company's epoxy resin color pigments are mainly developed for Resin River Tables. The recommended amount of dye is 1g per 1 to 5 ounces of epoxy, depending on the desired color saturation. Adjust the number of pigments added to the mixture until the desired effect is achieved.
Create resin color mixtures by combining several epoxy paint colors. Only add up to 6% colorant to the entire amount of any famous company since doing so would disrupt the delicate chemical equilibrium required for the reaction to work.
End
Here's a tip for making tornado designs with epoxy: use paint to color the excess resin, then use the tinted resin to make swirls. This is enjoyable since it allows you to build an intriguing pattern for your foundation layer. When casting a water effect, paint most of the resin using metallic epoxy resin color pigment.